Appears in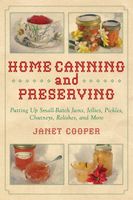 Ingredients
4 large, Slim cucumbers (or 2 english cucumbers)
3 tablespoons coarse salt
Method
Peel the cucumbers, quarter, remove seeds, and cut into chunks (if using English cucumbers, wash, cut in quarters lengthwise, and cut into chunks). Add the salt, mix well, and let stand overnight. Rinse and drain well.
Combine all the syrup ingredients and simmer, covered, for 10 minutes. Leave the syrup to steep overnight.
Return the syrup to a boil.