Appears in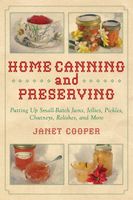 Ingredients
2 cups finely shredded cabbage
2 teaspoons salt
1 cup
Method
Add the salt to the finely shredded cabbage and let stand 1 hour. Rinse and drain well.
In a small pan, simmer the shredded carrots and corn for 2 minutes in a little water and drain. Mix all the vegetables together in a bowl.
Combine the remaining ingredients in a pan large enough to hold the vegetables and simmer, covered, for 10 minutes.