Appears in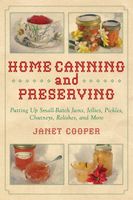 Ingredients
fresh vegetables, as much as you wish
coarse salt, ¼ teaspoon for each cup of ground vegetables
vinegar,
Method
Select crisp, fresh vegetables and grind coarsely. Drain and measure.
Add the other ingredients for each cup of measured ground vegetables. Mix well and store in clean jars or a bowl in the refrigerator. Your yield depends on how many cups of vegetables you grind. This relish is best made in small amounts and used in short time.