Preparation info
Serves

8

or so as an appetizer
Appears in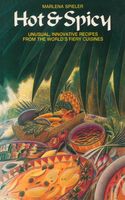 Ingredients
1 loaf crusty baguette or ciambatta bread, cut into thickish slices
5 cloves garlic, peeled and cut in half
Sauce
Method
Put the bread slices in a slow oven and bake until dry.
Remove and rub with the garlic halves; the rough edges of the toasted bread act as a grater for the garlic.
Serve each garlic-rubbed slice of bread topped with several spoonfuls of the tomato-olive-herb mixture or marinated pepper mixture.