Appears in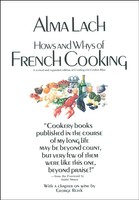 Ingredients
8 hard-cooked egg yolks
1 whole raw egg
½ teaspoon salt
Dash of white pepper
1 teaspoon crème fraîche, or whipping cream
1 teaspoon minced parsley
1 teaspoon minced onion
4 cups stock, heated to a simmer
Method
Put everything but stock into container of a blender. Whirl to a thick paste. If it seems too soft, add another hard-cooked yolk. It is better to have this too thick than too soft. You can always dilute the mixture with a bit of cream.
When of the right consistency the mixture will not fall apart when cooked. Shape into quenelles, using two teaspoons, and carefully put into simmering stock. Do not let the stock boil. The quenelles float almost instantly. Let them poach about 1 minute, then carefully lift each one from the stock with a table fork and place in ice water to stop the cooking.
When they are cool, lift quenelles to a plate. Change the ice water often and have it cold and ready for the next batch of cooked quenelles. Cook in small batches, a dozen at a time. Makes about 4 dozen. Fill soup cups with consommé, then add these quenelles. They are very fragile and very good.
,