Appears in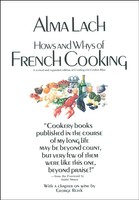 Ingredients
1 pound lean rump beef, in one piece
1 pound of oxtail, cut up
6 marrow bones, or more
1 (3-pound) chicken, cleaned
3 quarts water
1 quart chicken stock
Giblets and necks from 3 chickens (no livers)
6 carrots
4 turnips
13 boiling onions (small)
2 whole cloves
4 leeks
2 branches celery
1 tablespoon salt
½ teaspoon pepper
½ small head green cabbage
Toasted French-bread slices
Method
Put beef, oxtail pieces, and marrow bones into cheesecloth or a clean cloth. Tie with a string. (Use a napkin or kitchen towel; a double-thick piece of organdy is also perfect.) Remove fat from chicken and tie legs and wings to body. Place meats and chicken in large kettle. Add water and stock. Bring to a boil, then reduce heat and simmer 3 hours. Add giblets and necks after 2 hours of cooking. Remove scum from the kettle as it collects. Use a slotted spoon, and be careful that the scum does not break apart. Clearness of the liquids is dependent upon careful skimming and slow cooking. Prepare vegetables while meats cook.
Peel carrots and cut into 1-inch chunks. Trim off sharp edges, then shape into ovals. Peel, then cut turnips into fourths. Trim like carrots. (Later make a potage from vegetable trimmings and some of the leek tops.) Peel onions. Stick 2 cloves into one. Clean leeks; cut white part into 2-inch chunks; do not use green tops. Peel strings from celery with a potato peeler and then cut into 2-inch pieces. Add these prepared vegetables, salt, and pepper to the kettle at the end of 3 hours. Simmer another hour. Remove scum as it collects and keep sides of kettle wiped clean with damp paper towels.
Shred (chiffonade) cabbage. Simmer in 1 cup liquid from the kettle for 5 minutes.
When marmite is done, lift meats and poultry to platter. Discard onion with the cloves. Add half cup of ice water to kettle and let stand 10 minutes off the heat. Take meats from cloth. Slice rump beef. Remove marrow from bones and place on small plate. Skin chicken, then remove meat from bones in pieces. Do not slice the chicken; serve in pieces.
To serve, ladle liquids into individual hot earthenware or soup bowls. Add an assortment of meats, chicken, and vegetables to each hot bowl. Garnish with cooked cabbage. Spread toasted bread with bone marrow and serve with the marmite.
,