Preparation info
Serves

6

for a first course.
Appears in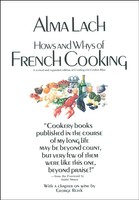 Ingredients
Beurre d' Ali
½ pound butter, softened
6 slices soft bread
4 cloves garlic, minced
White pepper and salt to season
6 sprigs parsley, chopped
2 shallots, or 1 onion, minced
Method
Cook mussels à la Marinière. Remove them from the kettle. Break off the empty shells. Loosen mussels from the shell, then arrange shells with mussels on a flat pan. Let them cool while you are making the garlic butter or Beurre d'Ail.
Put butter in mixer bowl. Cut crusts from bread. Tear bread into mixer bowl and add remainder of ingredients. Turn mixer on and it will blend the soft bread into the butter.
Cover mussels with the butter-bread mixture, filling the shells. When ready to serve, broil for about 3 minutes, or until bubbly hot and browned. Do not overcook mussels or they become tough.