Appears in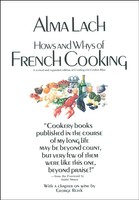 Ingredients
1 pound scallops, sea or bay
¼ cup cream
½ cup flour
½ teaspoon baking powder
Dash of white pepper
⅛ pound butter
3 tablespoons oil
3 cloves garlic, minced
2 teaspoons honey
¼ cup white wine
Method
Wash scallops several times in cold water seasoned with salt. (Use 1 tablespoon to 1 quart water.) When they are free of grit, drain, then dry on paper towels.
If using sea scallops, cut them in half, or in fourths, making bite-sized scallop pieces. Put scallops into a bowl, add cream, toss, then drain in a sieve. Blot on paper towels and then coat in mixture of flour, baking powder, and pepper. Shake off excess flour.
Heat butter and oil, but do not let it brown. Add scallops and garlic. Toss the pan to rotate the scallops. Brown all sides. When brown, spoon fat from pan. Combine honey with wine, pour over scallops, and bring to a boil. Reduce heat and simmer 2 minutes. Spoon into 4 coquilles (shells). Serve with French bread and a Chablis wine.
,