Appears in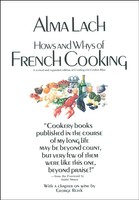 Ingredients
2 (3-pound) fryers
¼ cup olive oil
⅛ pound butter
¼ pound Bayonne or Prosciutto ham (in the piece)
4 carrots
20 small white boiling onions, cleaned
2 cloves garlic, diced
¼ teaspoon thyme
Bouquet garni
¼ teaspoon dried tarragon
1 tablespoon tomato paste
½ cup chicken stock
2 cups white wine
2 teaspoons sugar
1 teaspoon salt
⅛ teaspoon pepper
Beurre manié
1 tablespoon Madeira
3 tablespoons Cognac
Method
Cut fryers into serving pieces. Brown in olive oil in skillet. When brown, drain off oil and add butter.
Cut ham into ¼-inch strips. Peel carrots, cut into chunks, and carve into round balls about the same size as the small boiling onions. Add ham and vegetables to the browned chicken.
Add remaining ingredients down to the beurre manié. Simmer for 1 hour. Remove bouquet garni and thicken liquids with beurre manié. Stir in Madeira. Float Cognac over the top, set ablaze and serve.
,