Appears in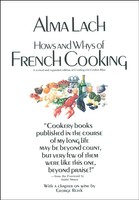 Ingredients
2 (3-pound) fryers, cut up
¼ pound butter
3 large onions
4 garlic cloves, minced
1 tablespoon curry powder
4 tablespoons flour
1 cup white wine
2 cups chicken stock
Bouquet garni
⅛ teaspoon dried thyme
Salt
Dash of pepper
4 firm apples
2 tablespoons flour
⅛ pound butter
2 tablespoons sugar
4 tablespoons crème fraîche or whipping cream
Beurre manié
3 tablespoons Cognac
2 tablespoons sherry
Chopped parsley
Method
Sauté chicken in ¼ pound butter until browned. Place on a platter. Peel and cut each onion into 12 wedges, letting the root core hold the onion layers together. Add to pan and cook about 5 minutes. Add garlic and immediately stir in the curry powder and then the 4 tablespoons flour. (To brown garlic causes it to become bitter.)
Add the wine, stock, bouquet garni, thyme, 1 teaspoon salt, and pepper. Stir-cook until mixture starts to boil. Reduce heat. Add dark meat pieces. Simmer 20 minutes. Then add white meat and cook another 30 minutes, or until done.
Core apples (do not peel). Cut into large diced pieces. Coat with 2 tablespoons flour. Brown in skillet with ⅛ pound butter. Sprinkle with sugar and 1 teaspoon salt. Cook until browned on all sides.
Put chicken on hot serving platter when done. Discard bouquet garni. Add crème to sauce. Adjust thickness of sauce with beurre manié. Put browned apples over the chicken. Stir Cognac and sherry into sauce and pour over the apples and chicken. Sprinkle with parsley and serve.
Wine
Rioja Blanco (Spanish)
,