Appears in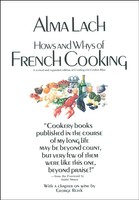 Ingredients
Step 1: Soubise au Ris
4 onions, sliced
Chunk of butter
¼ cup rice
½ cup water
½ teaspoon salt
Dash of pepper
Cream
Step 2: Pilaf
2 onions, minced
3 mushrooms, diced
Chunk of butter
1½ cups rice
3 cups water
1 teaspoon salt
3 large tomatoes
Salt and pepper to taste
3 tablespoons olive oil
Step 3: Béchamel au Currie
⅛ pound butter
1 tablespoon curry powder
4 tablespoons flour
2 cups milk
Salt and pepper to taste
2 tablespoons Madeira
2 egg yolks
6 tablespoons crème fraîche or whipping cream
To finish recipe
Grated Parmesan cheese
Chopped parsley
Method
A loin roast is best for this, one that resembles a standing rib roast. But settle for something else if the loin is not available. Braise according to basic recipe.
Make Soubise. Sauté sliced onions in a chunk of butter for 5 minutes. Add rice, water, and salt. Stir, cover, and cook about 20 minutes, or until rice is tender. Press through a food mill. Put purée back into pan. Add pepper and cream to make it the consistency of mashed potatoes. Set aside ready to use.
Make Pilaf. Sauté onions and mushrooms in butter for a few minutes. Stir in the rice. Cook a few minutes and then add the water and 1 teaspoon salt. Boil 2 minutes, then cover and simmer about 15 minutes, or until rice is done and dry. Stir with fork and set aside. Cut tomatoes in half. (Do not skin.) Remove seeds and squeeze out juice. Sprinkle with salt and pepper. Put olive oil into skillet. Lay tomatoes, cut side down, in oil ready to heat.
Make Béchamel. Melt butter; stir in curry powder. Cook 1 minute, then stir in flour, and cook a few minutes more. Add milk, salt, and pepper. Stir-cook until thickened. Add Madeira. Combine yolks and crème. Spoon about ½ cup of sauce into this liaison and then stir back into the sauce. Remove from heat, cover with a lid, and set aside until ready to use.
To serve roast. When roast is done, cut the meat into ¼-inch slices. Coat each slice with Soubise and then stand slices back in place. Thus the roast is back in its original shape. Carefully rewarm Currie sauce. Coat veal with sauce and sprinkle with Parmesan. Set into a 475-degree oven for about 10 minutes to heat and brown cheese.
Sauté tomatoes in oil, cooking each side about 2 minutes. Cover and reheat Pilaf while tomatoes cook. Fill tomatoes with hot Pilaf and sprinkle them with parsley. Serve roast garnished with the filled tomatoes. Extra sauce is served separately.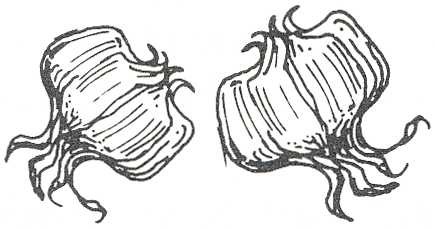 ,