Appears in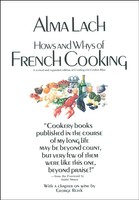 Ingredients
⅛ pound butter
6 tablespoons sugar
4 pears
½ cup whipping cream
Dash salt
½ teaspoon vanilla
2 tablespoons Kirsch
Method
Melt half the butter in an 8-inch pie pan, or one just large enough to hold the pears flat. Size of pears will determine size of pan. Sprinkle pan with half the sugar.
Cut pears in half. Peel and core. Lay pears, cut side down, into the pie pan. Sprinkle with remaining sugar and top each pear with a piece of butter. Bake about 20 minutes in a 475-degree oven.
Combine cream, salt, vanilla, and Kirsch. Pour over pears. Bake about 20 minutes, or until slightly thickened. Remove, cool on a cake rack, but serve slightly warm.
,