Appears in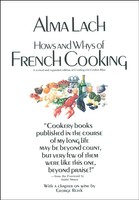 Ingredients
1 (3-4 pound) salmon trout
1 cup water
2 cups white wine
3 sprigs parsley
1 bay leaf
1 small onion, minced very fine
Juice of ½ lemon
½ teaspoon salt
½ teaspoon sugar
Freshly ground pepper
2 canned plum tomatoes
2 cups minced mushrooms
Chunk butter
2 tablespoons flour
Pinch of soda
3 tablespoons crème fraîche, or whipping cream
3 tablespoons Madeira
Parsley
Method
Wash trout. Let stand in cold water 10 minutes and then drain. Wrap in cheesecloth.
Put all ingredients, down to the tomatoes into a fish poacher, or long shallow pan that will hold the fish. Simmer ingredients about 20 minutes, then discard the parsley and bay leaf.
Crush tomatoes with a fork. Discard seeds and hard stem ends. Add tomatoes and mushrooms to liquids. Place cheesecloth-wrapped fish in pan. Cover and poach fish over low heat for about 30 minutes. Allow 10 minutes of cooking for every inch the fish is thick. If fish is 3 inches thick, allow 30 minutes. Preheat oven to 250 degrees.
Melt butter in a medium-sized saucepan. Stir in flour and cook 1 minute. Remove from heat.
When fish is done, lift it out, using several layers of paper towels to hold the cheesecloth ends. Unwrap fish and deposit it in an upright position on serving platter. Carefully remove skin and the dorsal fin. Lay a sheet of foil over the fish (not tight) and place in oven to keep warm.
Poaching liquids should now measure about 1½ cups (guess at it). If there is more, boil hard to reduce the amount. Pour liquids into the butter-flour mixture. Heat-stir until thickened. Add soda and stir in crème. (Soda prevents curdling when crème is combined with tomatoes.) Add Madeira. Heat, taste, and adjust seasonings. Adjust thickness of sauce with beurre manié) if necessary. Glaze fish with sauce and pour balance of sauce around fish. Decorate platter with bunches of parsley. Serve.
,