Appears in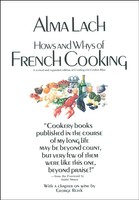 Ingredients
1 teaspoon cornstarch
2 teaspoons Kirsch
1 clove garlic, cut in half
1 cup white wine
½ pound Gruyère cheese, cubed
¼ teaspoon salt
Dash cayenne pepper
3 tablespoons Kirsch
French bread pieces for 4
Method
Combine cornstarch and 2 teaspoons of Kirsch in a tablespoon ready to use. Rub a small enameled saucepan with the cut side of the garlic. Mash, and then discard garlic. Add the wine, cheese, salt, and pepper. Stir-cook over very low heat with a wooden spoon. The cheese must dissolve into the wine as the whole is heated and stirred. If the heat is too high the cheese will become elastic, like rubber.
When the cheese and wine have become a creamy blend, add just enough cornstarch solution to bind the mixture. Stir in the 3 tablespoons of Kirsch. Add a bit more cornstarch if mixture seems thin. Cornstarch stabilizes the fondue and helps to keep it creamy.
Pour into a fondue server or chafing dish, or set the enameled saucepan over a candle warmer. One eats the fondue by spearing a piece of bread and dipping it into the liquid cheese.
,