Appears in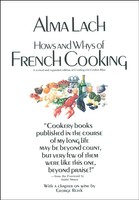 Ingredients
Clarified butter, or lard
Sugar and flour for pan
6 large egg yolks
½ teaspoon salt
1 cup sugar
1 teaspoon vanilla
1 tablespoon Kirsch
6 large egg whites
¼ teaspoon salt
2 tablespoons sugar
1½ cups sifted cake flour
Method
Preheat oven to300 degrees. Use a 9-inch angel food cake pan with removable bottom. Coat pan with clarified butter, or lard, sprinkle with sugar, and then with flour.
Put yolks into small bowl of electric mixer. Beat until light. Add ½ teaspoon salt and 1 cup sugar. Beat for about 5 minutes, or until very light and somewhat stiff. Add vanilla and Kirsch and continue to beat.
Beat whites with ¼ teaspoon salt until they start to stiffen. Gradually add 2 tablespoons of sugar and beat until creamy and stiff.
On low speed, or by hand, mix flour into yolk mixture alternately with ¼ of the beaten whites. Remove bowl from mixer. Fold balance of whites into batter with a rubber spatula. Pour into prepared cake pan, filling it ⅔ full, approximately. If there is batter left, make a small cake. Bake in preheated oven for about 1 hour, or until done.
When it is done, remove from oven, stick the neck of a club soda bottle into the tube of the cake pan, and invert so that the cake is held upside-down on the bottle. Let cake hang this way until cool and then remove from pan. Run a knife around inside of pan and around tube. Lift cake from pan by the tube and then cut cake from bottom of the tube part. Invert onto a cake plate. Serve plain, or sprinkle with confectioners' sugar. Serves 10 or 12.
,