Appears in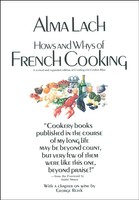 Ingredients
1 leek, sliced
2 onions, diced
1 small clove garlic, minced
1 carrot, diced
Chunk butter
2 tablespoons flour
1 bay leaf
1 tablespoon minced parsley
Dash thyme
1 cup white wine
1 cup clam juice (bottled)
2 cups water
2 tablespoons Cognac
Salt to season
20 large shrimps in the shell
1 egg yolk
1 cup whipping cream
1 teaspoon lemon juice
2 tablespoons Madeira
2 tablespoons butter
6 slices toasted French bread
Garlic cloves
Method
Sauté leeks ( for cleaning them), onions, garlic, and carrots in butter until lightly browned. Stir in flour. Add bay leaf, parsley, and thyme. Add wine, clam juice, water, Cognac, and salt. Add the shrimp and bring to a boil. Turn off heat and let stand about 8 minutes. Remove shrimp. Shell when cool enough to handle. Put the shells back into the pot (not the shrimp). Simmer about 30 minutes.
Remove the black vein from the shrimp and cut them into ¼-inch pieces. Strain the liquids into a clean pan. Discard shells and vegetables.
Combine yolk, cream, and lemon juice. Add some of the hot liquids to this mixture and then stir back into the soup. Add the shrimp. Then heat, but do not boil. Add Madeira and 2 tablespoons of butter. Taste, and adjust.
Rub toasted bread with cut garlic, place a slice in each soup cup, and spoon the soup over it. Serve.
,