Appears in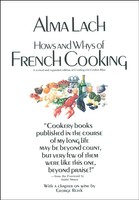 Ingredients
½ pound frozen raw, cleaned shrimp (12 to the pound)
Chunk butter
1 cup minced mushrooms
2 tablespoons flour
¼ cup whipping cream
¾ cup milk
½ teaspoon salt
¼ teaspoon sugar
Dash pepper
Dash cayenne
1 teaspoon fresh lemon juice
1 tablespoon Cognac
Method
Thaw shrimp. Cut into very small pieces. (large shrimp are not as strong-tasting as the small ones.)
Melt butter in skillet. Add mushrooms. Sauté about 1 minute. Add flour and cook-stir about 1 minute. Add cream, milk, salt, sugar, pepper, and cayenne. Stir-cook until thickened. Do not add the shrimp until the mold is ready to-be served.
When mold should be done, add the shrimp and stir-cook for 2 minutes, or until shrimp turn white. Add lemon juice and Cognac. If sauce is too thick, add a bit of milk and Cognac. Serve.
,