Appears in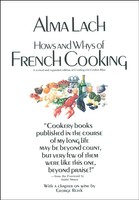 Ingredients
2 (3-4 pound) chickens, cut up
Salt and pepper to season
Butter
2 tablespoons peanut oil
½ cup dry white wine
½ cup chicken stock
6 small onions, leave whole
3 sprigs parsley
1 bay leaf
6 carrots
1 leek, leave whole
2 cups sliced mushrooms
3 egg yolks
1 cup crème fraîche, or whipping cream
2 teaspoons lemon juice
Salt and pepper to season
Dash of sugar
Minced parsley
Method
Use only the meaty pieces of the chickens. (Cook the bony pieces to make broth and then remove the meat from the bones and make some chicken salad, or combine with some crab or shrimp in a cream sauce and serve on rice for another meal.)
Sprinkle chicken pieces with salt and pepper to season. Heat ⅛ pound butter and oil in a skillet. Add chicken and lightly brown. Add wine, stock, onions, parsley sprigs and bay leaf. Peel carrots. Gut across the middle in half. Add lower halves to skillet and cut the top halves in half lengthwise. Add to skillet. Clean the leek, and add to skillet. Cover and simmer about 1 hour or until chicken is tender.
Lift chicken pieces to a platter. Discard leek and herbs. Arrange carrots and onions around chicken. Set into 300-degree oven to keep warm. Add mushrooms and boil to reduce liquids to about ¼ cup.
Combine yolks, crème, and lemon juice. Add salt and pepper to season. Add a dash of sugar. Remove skillet from heat and stir yolk mixture into the skillet. Stir-cook over very low heat until thickened. Stir in a chunk of butter. Glaze chicken with sauce, sprinkle with parsley, and serve. Serve balance of sauce separately.
,