Appears in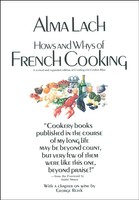 Ingredients
Smelts, perch, or other fish fillets
Peanut oil for frying
1 cup flour
1½ cups ice-cold beer, approx.
Parsley sprigs, lots
Lemon wedges
Method
Clean smelts and dry on paper towels. If using fillets, cut them into about 4 lengthwise pieces. Make them about the size of a smelt.
Heat oil to 340 degrees. Put the flour into a mixing bowl. With a whisk stir in the beer. Beat out the lumps. Dip fish into the batter and then put into the hot oil. Fish are done when they are brown and crisp. Drain on paper towels.
Dip parsley sprigs into the batter and fry. Serve with the fish along with lemon wedges and the following sauce. Normally in French cooking the parsley is simply dropped into the fat and cooked, and you may prefer it that way.
,