Appears in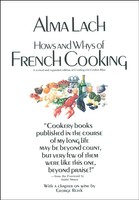 Ingredients
1½ pounds green beans
2 teaspoons salt
2 quarts water
6 slices lean bacon, diced
1 onion, diced
Freshly ground pepper
½ teaspoon sugar
2 tablespoons vinegar
Pinch baking soda
3 tablespoons crème fraîche, or whipping cream
Method
String the beans. Cut into 1-inch lengths. Drop into boiling salted water. Cook about 8 minutes, or until tender. Eat a bean to test. Keep them green and crisp—yet done. When done, drain and run cold water on them to stop their cooking. Drain again and set aside.
Sauté the bacon until crisp. Spoon all but 5 tablespoons of fat from the skillet. Set aside until ready to serve.
When ready to serve, drop the cooked beans into boiling, salted water to reheat. Drain and leave in the pan. Heat the cooked bacon and fat. Add onions, pepper, sugar, and vinegar to the beans. Pour over the bacon. Heat for about 5 minutes. Add the soda (soda retards curdling) and then the crème. Heat and toss. Taste and adjust seasonings and then serve.
,