Appears in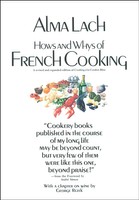 Ingredients
¼ pound butter
¾ cup minced ham
1 cup minced mushrooms
6 tablespoons flour
1½ cups light cream
Salt and pepper to season
Dash sugar
1 cup chopped, cooked chicken
3 eggs
2 tablespoons sherry
Peanut oil for French-frying
½ cup flour
2 egg whites
Fine dry bread crumbs
Method
Sauté ham and mushrooms in butter for 1 minute. Add flour and stir into a paste. Add cream and stir-cook until very thick. Season with salt, pepper, and sugar. Stir in chicken.
Beat eggs. Add some hot sauce to eggs and mix. Gradually add eggs to the sauce. Add sherry. Heat, but do not boil. Pour into a buttered, square pan and cover with a buttered piece of foil. Refrigerate until very cold.
Heat oil to 360 degrees. Cut cold mixture into 1 × 2-inch bars. Roll in flour and shape into cylinders. Beat egg whites to a froth. Roll cylinders in egg whites and then roll in crumbs. Put on plate ready to fry.
Fry croquettes until totally browned and hot. Drain on paper towels and keep warm in a 350-degree oven. Make the tomato sauce, or another sauce, before frying the croquettes. Mushroom, curry, or Hollandaise are all good, but I prefer the tang of tomatoes.
,