Appears in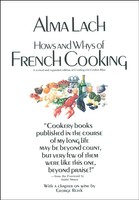 Ingredients
2 (1-ounce) cakes yeast
1 teaspoon sugar
½ cup warm water
4 cups flour
2 teaspoons salt
1 cup warm water
Cornmeal
Peanut oil, or melted butter
1 egg white
2 tablespoons cold water
Method
Dissolve yeast and sugar in ½ cup water. Put 3 cups flour and salt into mixer bowl. If you have a mixer with a dough hook, use it. Otherwise mix by hand. Make a well in the flour. Add the dissolved yeast and gradually add the 1 cup of warm water. Knead the dough with the dough hook, or by hand, until the dough is smooth and elastic. Add as much of the remaining 1 cup of flour as is needed to make a stiff dough. It will absorb about ¾ cup. Put remaining ¼ cup on counter and knead the dough for about 5 minutes. A perfect dough does not stick to your fingers and is resilient and smooth. When dough reaches this consistency place in a floured bowl and sprinkle flour over the top. Cover with a towel and a piece of foil. Let expand until more than double in size or until it falls. Sprinkle cooky sheet with cornmeal.
Knock dough down with your fist. Knead on counter, and let rise again. After it rises again, put onto a floured counter, knead by folding the dough in half, knead, and fold again. Do this several times. Or, hit the dough with a rolling pin to work it and then fold and knead it into an oval, flat pancake. Let rest 10 minutes. With a ½-inch dowel (buy in hardware store), press through the two long sides and about 2 inches into the dough, thus you will have two perfectly shaped loaves of bread. Put these two loaves across two corners of the cooky sheet, leaving the center for the two remaining loaves, which will be longer. Now press the dowel down through the middle of the dough, thus making two more loaves of bread. Pinch the raw edges together and place on cooky sheet. Coat loaves with oil. Preheat oven to 475 degrees.
Let loaves rise 20 minutes. Slash the tops lengthwise in three or four places, cutting about ¼ inch deep. Let rise 20 minutes. Put pan of boiling water onto floor of oven. Put bread into oven and reduce heat to 375 degrees.
Beat the egg white until frothy. Add 2 tablespoons of cold water and beat together. When bread starts to brown, remove from oven and coat with egg-white solution. Return to oven and after 10 minutes spray, or brush with water. (A gun-type plastic spray container also available at hardware stores is great for spraying bread.) Spray bread every 7 minutes or so. Remove pan of water after 20 minutes. Bake about 40 minutes, or until done.
When bread is done, turn off oven, open the door, and let loaves cool 10 minutes. Remove them from the oven and place on wire racks to get cold. Freeze, or reheat and serve.
To reheat bread, spray with water and put into a preheated 350-degree oven for 10 minutes. If bread is frozen, run the frozen bread under cold tap water and heat for 15 minutes. Remove, cool to crisp the crust, and serve.
,