Preparation info
Serve immediately to

4

, or small servings to 6
Appears in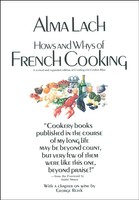 Ingredients
½ cup sugar
½ cup flour
½ teaspoon salt
¾ cup milk
1 tablespoon butter (pat)
4 tablespoons Grand Marnier
3 tablespoons bitter orange marmalade (Dundee), diced
4 egg yolks
Butter and sugar for soufflé dish
5 egg whites
Method
Put sugar, flour, and salt into a saucepan. Mix. Gradually add milk to make a paste and then stir in remainder of milk. Cook over low heat until it becomes very thick. Remove from heat.
Stir in pat of butter. Add Grand Marnier and marmalade. Mix well. Add the yolks. Cover and set aside until ready to finish the soufflé and bake it.
Coat a 5-cup soufflé dish, or straight-sided mold, with butter and then sprinkle with sugar. Thirty minutes before you expect to serve the souffle, finish the recipe. Preheat oven to 375 degrees.
Whip egg whites until creamy and stiff, but not dry. Stir a "gob" into the custard and then fold in balance of egg whites. Pour into prepared dish, smooth off the top, and push away from sides of dish. Bake 15 minutes at 375 degrees, then increase heat to 400 degrees and bake 10 minutes. Soufflé is done when top has a slight dent in the middle which means the center is still a custard—the way a soufflé should be. Serve immediately to 4, or small servings to 6.
,