Appears in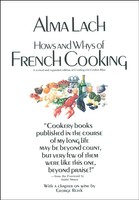 Ingredients
Butter and flour
¼ pound plus 2 tablespoons butter
½ pound semisweet chocolate
1 tablespoon Cognac
1 tablespoon ground almonds
1 tablespoon flour
Sugar
4 egg yolks
¼ teaspoon salt
½ teaspoon vanilla
4 egg whites
Method
Butter and flour a 9-inch cake pan w i t h removable bottom. Put butter on a plate and cut into 4 pieces.
Put chocolate in top part of double boiler with the Cognac. Melt over warm water, but do not let top part touch the water. Remove from heat. Stir until warm. Set into cold water to hasten process. While still warm, add butter in 4 pieces. Blend each piece into the chocolate before adding the next piece.
Combine ground almonds, flour, and 4 tablespoons of sugar. Add to the chocolate. .
Beat yolks with salt until light and thick. Beat in the chocolate mixture very gradually so that the mixture blends and does not separate. Add vanilla.
Beat whites until they start to stiffen and then gradually add 4 tablespoons of sugar and beat until stiff. On lowest speed mix whites into the chocolate batter. Pour into the prepared cake pan. Bake just 18 minutes at 425 degrees. No longer. The cake firms as it cools. Place cake on wire rack when done. When it is cool, remove from pan. Glaze with the following frosting (chocolate glaze), sprinkle with confectioners' sugar, or serve with whipped cream. The glaze is traditional.
,