Appears in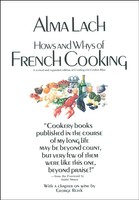 Ingredients
⅛ pound butter
1 tablespoon Kirsch
1 tablespoon Cognac
1 tablespoon water
3 tablespoons white corn syrup
1 teaspoon instant espresso coffee
Dash salt
4 ounces German sweet chocolate
Almond halves
Method
Bring butter, liquids, syrup, instant espresso, and salt to a boil. Add chocolate, cover, and remove from heat. Let stand about 5 minutes, or until chocolate is soft. Stir, until cool and thickened. Set into cold water to hasten process. If it gets too firm, reheat and cool again.
Put cake on wire cake rack, set on a cooky sheet, and pour all the frosting on the cake. With a rubber spatula push frosting over the sides to cover the cake completely. Work quickly or the glaze will not be smooth. This cake sinks in the middle, which is what it should do, and so you have to help the frosting down over the sides.
Place almond halves around the outside edge of the cake, one every inch, to create the traditional gâteau de Nancy. This cake may be frozen. Cut and serve in its frozen state.