Appears in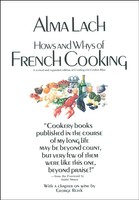 Ingredients
1 small egg white
1 cup grated Gruyère, or Swiss cheese (⅛ pound)
1 teaspoon minced parsley
¼ teaspoon grated onion
Dash cayenne
Peanut oil for French-frying
Flour
1 egg white, mixed to a froth
Fine bread crumbs
Method
Using a whisk, beat 1 egg white to a froth. Add cheese, parsley, onion, and cayenne. Mixture should be thick and heavy. Beat well and then add more cheese if necessary. Amount of egg white will determine thickness. Heat oil to 320.
Shape cheese mixture into ¾-inch balls. Roll them in flour, then egg white and then crumbs. Dip again in egg white and crumbs. Place in French-fryer basket. Lower into hot oil. Fry until puffed and browned. Keep oil between 320 and 330 degrees. If the oil goes to a higher temperature the puffs are likely to pop in the oil. Drain on paper towels.
To serve, put two or three on individual plates and spoon tomato sauce (p. 537, omit mushrooms), or garlic sauce over them. Makes approximately 1 dozen. These may also be served as cocktail food, with or without the sauce.
,