Appears in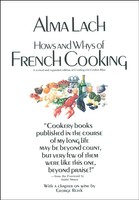 Ingredients
1 (4–5-pound) leg of venison
2 cups red wine (Burgundy)
2 tablespoons olive oil
¼ teaspoon thyme
1 tablespoon minced parsley
1 onion, diced
1 bay leaf
½ teaspoon rosemary
2 slices salt pork cut ⅛ inch thick
Salt and pepper
3 carrots
1 onion, sliced
4 sprigs parsley
Sauce
Chunk butter
1 carrot, minced
1 onion, minced
3 tablespoons flour
1 cup red wine
Marinade liquids
1 teaspoon brown sugar
1 teaspoon vinegar
Freshly ground pepper
3 tablespoons Cognac
Butter
Method
Always remove all visible fat from game. It very quickly becomes rancid. Put meat into a plastic bag. Add wine, oil, thyme, parsley, onions, bay leaf, and rosemary. Put the salt pork slices into the marinade so that they will take on flavor. Marinate in the refrigerator for 3 days.
Remove venison. Blot with paper towels. Rub with salt and pepper. Cut 1 slice of salt pork into ¼-inch pieces. With the point of a paring knife, make pockets all over the meat and insert pieces of salt pork. Lay the other slice on top of the roast.
Preheat oven to450 degrees. Cut carrots lengthwise into quarters. Put into a roasting pan. Add sliced onion and lay parsley on top. Set venison on this bed of vegetables. Reduce heat to 325 and put venison into oven to roast for 1 hour.
Make sauce while venison cooks. Put butter into saucepan. Add minced carrot and onions. Sauté for about 20 minutes. Stir in flour. Cook 1 minute. Add wine, marinade liquids, sugar, vinegar, and lots of pepper. Stir-cook until thickened, then set lid ajar and let sauce simmer until roast is done, or about 1 hour.
When roast is done, pour 3 tablespoons of Cognac over it and set aflame. When flame dies, lift roast to serving platter. Spoon liquids from roasting pan and add to the sauce. Strain sauce into a clean pan. Heat. Taste and adjust seasonings and thicken with beurre manié) if necessary. Swirl a piece of butter into the sauce and serve sauce separately with the roast.