Appears in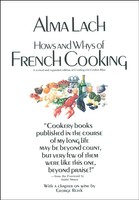 Ingredients
8 Jonathan apples, or enough to make 2 cups cooked apples
Dash salt
1 cup white wine
4 teaspoons unflavored gelatin
5 tablespoons cold water
1 cup sugar, or to sweeten apples
2 tablespoons Kirsch
½ teaspoon vanilla
Lady fingers
1 cup whipping cream
Dash salt
2 tablespoons confectioners' sugar
¼ teaspoon vanilla
2 tablespoons Kirsch
Method
Peel, core, and slice apples into saucepan. Add salt and wine. Cover and cook until mushy and very well done. Put mixer bowl and beaters into freezer or refrigerator.
Soak gelatin in water until soft. When apples are done, add sugar and cook 10 minutes. Grind through a food mill. Add gelatin to the hot apples. Stir until dissolved. Add 2 tablespoons of Kirsch and ½ teaspoon vanilla. Cool mixture and refrigerate until starting to set.
Line the bottom of a 6-cup charlotte mold with waxed paper. Do not butter the mold. Line the sides of the mold with lady fingers. If bought lady fingers are used, separate them in half and put the round side to the mold.
When apple mixture is cold and starting to set, put mixture into cold mixing bowl and beat until fluffy and the mixture turns white and thick. It may take 15 minutes. Pour into the lined mold. Cover and refrigerate at least 8 hours, or overnight.
When ready to serve, invert mold onto a shallow serving dish and remove the waxed paper.
Whip the cream to which has been added a dash of salt. When it is whipped add the confectioners' sugar and flavor with ¼ teaspoon vanilla and 2 tablespoons of Kirsch. Put some whipped cream into a pouch with a star nozzle and squeeze stars of cream over the top of the apple mold. Serve balance of whipped cream separately. Cut into wedges to serve.