Preparation info
serve as a first course to

6
Appears in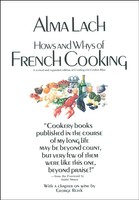 Ingredients
Mushroom Molds
Clarified butter
4 large eggs
Salt
2 teaspoons cornstarch
½ cup whipping cream
1 cup chicken stock
½ teaspoon paprika
Dash nutmeg
2 cups minced mushrooms (about ½ pound)
1 tablespoon minced parsley
Shrimp Sauce
Chunk butter
2 cups raw shrimp, cut-up
1 tablespoon minced shallots
3 tablespoons Calvados
3 tablespoons flour
Dash nutmeg
½ teaspoon sugar
¼ teaspoon salt, or to season
2 cups light cream
¼ cup Madeira
Minced parsley
Method
Bake in individual, straight-sided molds and in a water bath. Give 6 individual (6-ounce) soufflé dishes or timbales a heavy coating of melted, clarified butter. Line bottom of each timbale with a round of waxed paper, letting the paper extend up the sides by 1/16 of an inch or so. Press these rounds into the dishes. Coat paper with melted butter. Refrigerate dishes and coat again before filling them.
Preheat oven to 350 degrees. Put about 1-inch of water into a pan large enough to hold the molds. Bring water to a boil.
Break eggs into mixer bowl. Add ½ teaspoon salt. Put cornstarch into a small saucepan. Stir in enough cream to make a paste. Add balance of cream, stock, ¼ teaspoon salt, paprika, and nutmeg.
Wash mushrooms. Cut stems off at caps, slice thin, and then chop very fine. Add to saucepan. Heat-stir until thickened.
Beat eggs together but do not make them light. Add the hot mushroom mixture by spoonfuls. Add parsley.
Take molds from refrigerator. Coat again with melted butter. Stir mushroom mixture and then ladle into the prepared molds. Mushrooms, being light, come to the top. Be sure each mold has its share of mushrooms and liquids. Mixture will not rise during baking.
Set molds into water bath and place in preheated oven. Bake 30 minutes, or until done. Test as you do custard, by inserting a table knife into the center. If it comes out clean, the mold is done. If it doesn't, bake another 5 minutes and test again.
Ten minutes before timbales are done, make the sauce. Melt butter in a skillet. Cut the shrimp across into ¼- to ½-inch pieces. Add shrimp and shallots to skillet. Sauté about 1 minute. Add Calvados and set aflame. (Stand back; this really burns.)
When flame dies, stir in flour. Stir-cook 1 minute or so and then add nutmeg, sugar, salt, cream, and Madeira. Stir-cook until thickened. Taste and adjust seasonings. Set lid ajar and put skillet on asbestos mat over low heat to keep warm.
Unmold the timbales. This is not easy. Run the point of a knife around the top edge of the custard and then run the knife around the sides and down to the bottom. Do this very carefully. Invert each mold onto serving plates. Shake the mold and the custard should drop out. If it doesn't, carefully insert a table knife under one edge of the waxed paper, while inverted, and the custard should drop out. Peel off the round of waxed paper. Spoon sauce over the top, sprinkle with minced parsley, and serve as a first course to 6, or make 4 larger molds and serve as a main dish along with salad and dessert for a light supper.
,