Appears in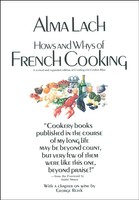 Ingredients
1 (⅝- or 0.6-ounce) cake yeast
¼ cup warm water
4 cups flour
½ cup cake flour
4 tablespoons sugar
1 teaspoon salt
¼ pound butter, softened
2 eggs, beaten light
¾ cup warm water, approximately
Melted butter
Method
Dissolve yeast in ¼ cup warm water. Put flours, sugar, and salt into large mixer bowl. Mix. Add yeast, butter, and eggs. Beat with mixer, or by hand, while adding enough warm water to make a firm-soft dough. The trick to this bread is the consistency of the dough. When it is mixed, push dough down from sides of the bowl, coat sides of bowl with butter and brush top of the bread. Cover and let rise in a warm place until it has doubled in size.
Punch down dough and knead on a lightly floured board for a minute or so. Divide dough in half. Shape into two loaves and place in two 5 × 3 × 4-inch greased bread pans. Coat loaves with melted butter. Grease two sheets of foil. Place these over the top of each pan. Tie tight with a string. Let dough rise until almost touching the foil. Preheat oven to 375 degrees. Bake 30 minutes. Reduce heat to 325 degrees and bake 20 minutes longer.
When done, remove from oven. Take foil off pans and turn loaves out onto wire racks to cool.
,