Appears in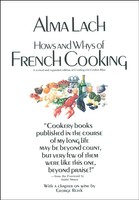 Ingredients
½ head green cabbage, shredded
Butter
3 slices lean bacon, diced and fried
4 red potatoes
Freshly ground pepper
Salt
1 clove garlic, crushed
Chicken stock
Grated Gruyère cheese
Method
Sauté cabbage in butter for a few minutes. Keep the cabbage crisp. Put cabbage into a buttered 8 × 6 × 2-inch baking dish. Fry bacon crisp.
Peel potatoes. Cut into ⅛-inch slices. Put a layer of potatoes over the cabbage. Sprinkle with pepper. Add a bit of salt, providing the stock is not salted. Sprinkle potatoes with bacon bits. (Just one layer of potatoes.)
Crush garlic through a press, or mash in a salad bowl with the spoon. Add 1 cup of stock to the salad bowl, or crush the garlic into the stock. Stir and pour over the potatoes. Add more stock to cover the potato slices. Sprinkle with cheese. Cover dish tight with foil. Bake in a 350-degree oven for 30 minutes. Reduce heat to 325 degrees and bake about 1 hour. Liquids should be evaporated. If not, remove foil and cook until liquids are gone, and the potatoes browned. Serve from the casserole, using a pancake turner.