Appears in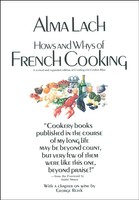 Ingredients
Pie shell
¼ pound butter
2 cups flour
2 tablespoons confectioners' sugar
½ teaspoon salt
4 tablespoons whipping cream
Butter and flour for pan
Filling
2 cups milk
¾ cup sugar
½ cup flour
2 whole eggs
3 egg yolks
½ teaspoon salt
Grated rind from 1 lemon
6 tablespoons lemon juice (about 1½ lemons)
2 tablespoons butter, or a piece
¼ cup Kirsch
Meringue
sugar
1 tablespoon cornstarch
½ cup water
3 egg whites
⅛ teaspoon salt
½ teaspoon vanilla
½ teaspoon lemon flavoring
Method
Preheat oven to450 degrees. Put butter into mixer bowl to soften. Add flour, sugar, and salt. Blend until mixture looks like fine crumbs. Add cream and beat until mixture becomes a putty-like dough.
Put dough on a lightly floured counter. With the heel of your hand, push bits of dough off the ball of dough; then collect dough into a ball and push out again. Collect again into a ball of dough. Cut dough in half, making one piece slightly larger. Wrap smaller piece, refrigerate, or freeze to use later.
Butter and flour a 9-inch pie pan. Shape dough into a round. Roll dough into a 10½-inch circle, or to fit the pie pan. When dough has been rolled, place rolling pin on one edge of circle and roll dough around the rolling pin. Place rolling pin so that the open edge of the dough is on one edge of the pie pan. Unroll the dough over the pan. Push dough down into the pan and trim off what hangs over the edge. Crimp edges of dough between thumb and finger in a fancy design.
With a table fork, stab the bottom of the pie crust in about six places. This allows the air under the crust to escape. Cut a 10-inch circle of foil. Place foil in pie crust and push down tight over the dough. Bake in 450-degree oven for 10 minutes. Remove foil and bake another 10 minutes, or until nicely browned. Remove. Set on a wire rack to cool. Make filling when pie shell is cool.
Heat milk to a simmer. Put sugar and flour into small mixer bowl. Mix together. Add eggs, yolks, and salt. Beat on low speed while adding the hot milk. Mix well.
Pour mixture into top part of a double boiler. Grate rind from 1 lemon into mixture. Squeeze lemon juice and add 6 tablespoons of it to mixture. Cook in double boiler until custard thickens. Remove from heat. Add butter and Kirsch. Set boiler top into cold water and stir custard until cool. Set aside while making the meringue. Preheat oven to325 degrees.
Combine 2 tablespoons sugar and cornstarch in a small pan. Stir in cold water. Stir-cook over low heat until thickened and clear. Cool mixture by setting into cold water.
Put whites into mixer bowl. Add salt and beat until whites start to get stiff. Add flavorings, sprinkle in 6 tablespoons sugar, and add the cooled cornstarch mixture. Beat until mixture is stiff yet creamy. Do not overbeat.
Pour custard into baked pie shell. Cover with meringue. Be sure the meringue touches the crust at all points around the pie. Bake for about 20 minutes, or until brown. Do not cook meringue at a temperature higher than 325 degrees or the meringue will become tough. Cool pie on a wire rack for an hour or so before serving. Do not refrigerate. Serve at room temperature.