Appears in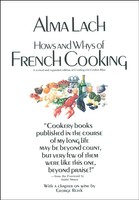 Ingredients
2 (3-pound) fryers, cut up
Salt and pepper
2 slices bacon, diced
12 boiling onions, or 2 big onions, quartered
12 mushrooms
¼ pound butter
2 tablespoons flour
6 sprigs parsley
3 cups Vouvray wine (1 bottle)
½ cup chicken stock
1 tablespoon sugar
1 small clove garlic
3 egg yolks
½ cup crème fraîche or whipping cream
1 teaspoon lemon juice
Heart-shaped croutons
Method
Use only breasts, legs, and thighs of chickens. Cut breasts in half. (Boil remaining pieces of chicken and the giblets to make stock. Use the meat from these pieces to make salad.) Salt and pepper the chicken. Let stand. Fry bacon until slightly crisp.
Peel onions. Cut stems from the mushrooms even with the caps. (Add stems to stock pot.) Wash caps.
Melt butter in a large skillet. Put chicken into skillet, skin side down, and brown both sides. Add bacon, onions, and mushrooms when chicken is turned.
When chicken is brown, stir flour into the fat in the skillet. Cook 1 minute. Fold parsley into a bundle and tie with string. Add to skillet. Add wine, stock, and sugar. Crush garlic clove with the flat side of a knife, and add it to the liquids.
Bring liquids to a boil, set lid ajar, and simmer about 1½ hours. After an hour lift the crushed garlic clove from the liquids and discard. Put yolks, crème, and lemon juice into a small bowl ready to use.
When chicken is done, put it on a serving platter. Discard parsley bundle. With slotted spoon lift onions and mushrooms to chicken platter. Put platter into a 250-degree oven to keep warm. Liquids should have reduced to about 2 cups; if they have not, boil the sauce hard for a few minutes to attain this quantity.
Whisk together yolks, crème, and lemon juice. Spoon some of the hot sauce into the mixture, stir well, and then quickly stir the whole mixture into the sauce in the pan. Heat, but do not boil. Yolks should thicken the sauce, but if it doesn't, add a bit of beurre manié) and heat. Spoon some of the sauce over the chicken to glaze it. Serve balance of sauce separately. Decorate platter with heart-shaped croutons.
Heart-shaped croutons. With a heart-shaped cooky cutter, stamp out hearts from slices of bread. Fry these in melted butter until they are crisp and brown on both sides. Place them in a 250-degree oven to dry. Make in advance of using.