Appears in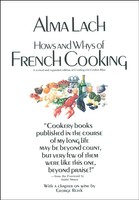 Ingredients
Butter and flour to coat pan
1½ cups sugar
1 egg
6 yolks
½ teaspoon salt
1 cup coarsely ground walnuts
1 cup ground almonds
¾ cup cornstarch
1 teaspoon vanilla
6 egg whites
¼ teaspoon salt
Frosting
2 cups whipping cream
4 tablespoons confectioners' sugar
1 teaspoon vanilla
Chopped walnuts
Method
Butter and flour an angel food cake pan. Put sugar, egg, yolks, and ½ teaspoon salt into a mixer bowl. Blend together until sugar is dissolved. Mix together walnuts, almonds, and cornstarch. Blend them into the sugar-egg mixture. Add vanilla. Preheat oven to325 degrees.
Put egg whites and salt into a mixer bowl. Beat until stiff and creamy. Beat a "gob" of this into the egg-sugar mixture to lighten it. Fold the remaining whites into the mixture. Pour into prepared cake pan. Bake for about 60 minutes, or until done. When it is done, cool in pan on cake rack. When cool, cover and refrigerate until the next day.
Remove cake from pan. Using a long, sharp knife cut cake into 3 layers. (If this seems difficult, tie a string around the cake in two places, where you wish to cut, and then slice above or below the string, using the string as a guide line.)
Whip cream until stiff and creamy. Add sugar and vanilla. Beat until very stiff, yet creamy. Spread between the layers. (Be sure to put layers back in the same position as they were before the cake was cut.) Coat the top layer and sprinkle with chopped walnuts. Refrigerate until ready to serve. Serves 12–16.
,