Appears in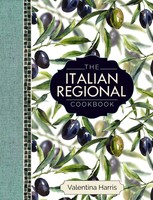 Ingredients
1.5 litres/2½ pints/6¼ cups vegetable, chicken or meat stock
1 large onion, chopped
1.2 kg/2 ½ lb very ripe tomatoes, coarsely chopped
120 ml/4 fl oz/½ cup extra virgin olive oil
400 g/14 oz stale ciabatta, crusts removed, thinly sliced
3 garlic cloves, crushed
a large handful of fresh basil leaves, chopped
sea salt and ground black pepper
Method
Heat the stock in a large pan. Meanwhile, put the onion, tomatoes and half the oil in a separate pan and fry together over a gentle heat for 10 minutes, or until softened.

Push the onion and tomato mixture through a food mill, sieve or strainer and add it to the hot stock. Stir thoroughly.
Add the bread, garlic and most of the basil, and season to taste.
Cover and simmer gently for 45 minutes, until thick and creamy, stirring occasionally. Stir in the remaining oil, adjust the seasoning if necessary, and add the rest of the basil to taste. Serve hot or at room temperature.