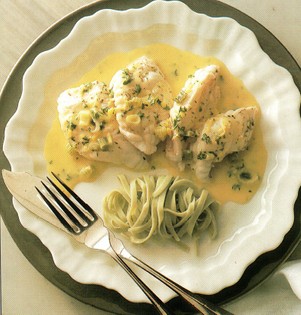 Ingredients
2 lb/1 kg monkfish, on the bone
2 cups/500 ml fish stock made with bone from the monkfish
salt and pepper
pinchof dried thyme
juice of 1 lemon
1 tbsp olive or vegetable oil
pared zest of 2 lemons, cut in julienne
1 tbsp butter
4 scallions, thinly sliced, including some green
½ cup/125 ml white wine
1 lb/500 g fresh green fettuccine, cooked (for serving)
Method
Fillet the monkfish and use the bone to make stock. Cut the monkfish fillets in escalopes. Marinate the fish in salt, pepper, thyme, lemon juice and oil for 1 hour.
Blanch the lemon julienne by boiling in water for 3-4 minutes, then drain and rinse with cold water.
In a sauté pan, melt the butter, add the onions and cook gently until soft. Add the fish, fish stock and wine. Simmer until the fish just loses its transparency, 1-2 minutes.
Remove the fish, cover and keep warm. Cook the fettucine and keep warm. Meanwhile, make the sauce: boil the cooking liquid until reduced to a glaze. Add the cream and reduce to about 2 tablespoons. Mount the sauce with the butter. Stir in the lemon julienne, lime juice, ginger and parsley, Season.
Arrange the monkfish escalopes with the fettucine on individual plates and spoon the sauce over the fish.