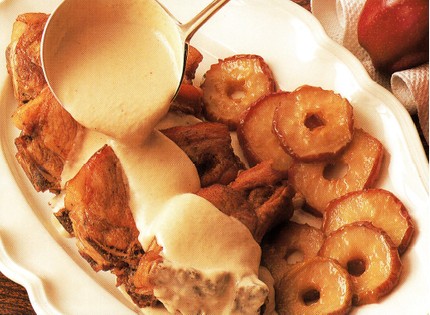 Ingredients
4 thick loin pork chops (2½-3 lb/1.2-1.4 kg)
salt and pepper
1 tbsp oil
1 tbsp butter
2 onions, sliced
2 tart apples, peeled, cored and sliced
3 tbsp/45 ml Calvados or brandy
1 tbsp flour
1½ cups/375 ml veal stock, more if needed
pinch grated nutmeg
¾ cup/175 ml crème fraîche or heavy cream
Method
Sprinkle the chops with salt and pepper. Heat the oil and butter in a large frying pan or sauté pan and fry the chops over a medium heat until brown on both sides. Remove them, add the onions and cook until soft but not brown. Add the peeled apples and continue cooking over a fairly high heat until the onions and apples are golden brown.
Replace the chops, pour over the Calvados and flambé. Stir the flour into the juices, add the stock and nutmeg and bring to a boil. Cover and simmer on top of the stove, or bake in a 350°F/175°C oven for 1-1 ½ hours until done. If the sauce thickens too much during cooking, stir in more stock.
For the garnish: heat the butter in a frying pan. Dip one side of each apple slice in sugar. Cook the slices, sugar side down, in butter over a high heat for 4-5 minutes or until the sugar caramelizes. Sprinkle the rest of the sugar on the apples, turn and brown the other side.
Remove the chops, arrange them overlapping on a serving dish or individual plates and keep warm. Work the sauce through a sieve, pressing to extract the apple and onion pulp. Add the crème fraîche or cream and bring the sauce back to a boil. If necessary reduce it until it is thick enough to coat the back of a spoon and season it to taste.
Spoon the sauce over the chops and use the slices of apple to garnish them.