Appears in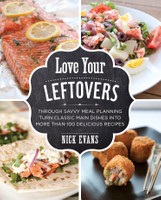 Ingredients
1 carcass from roast chicken, meat removed and shredded
1 onion, quartered
2 carrots, quartered (or a handful of baby carrots)
2 stalks celery 15-20 black peppercorns
2 bay leaves
1 head garlic, split in half horizontally
A handful of parsley sprigs
Enough water to cover everything by about an inch, probably about 8-10 cups
Method
After you've had a roast chicken meal and shredded the leftovers, you're going to be left with bones, small bits of meat, fat, and cartilage. Immediately toss all of these items into a large pot along with the onion, carrots, celery, peppercorns, bay leaves, garlic, parsley, and water.
Bring this to a simmer and cook, partially covered, for about 3 hours. Skim off any foam that accumulates as the stock simmers. Let the stock cool to room temperature, strain it, and refrigerate or freeze. You'll use some of it in the other recipes in this chapter.
While you don't have to make stock right after you roast the chicken, I always find it best to do right away, or I'll never find the time to get around to it.