Appears in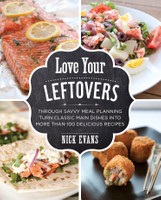 Ingredients
2 tablespoons olive oil
½ small red onion, minced
3 cups cooked rice (medium grain works well)
1 (15-ounce) can diced tomatoes
1 (4-ounce) can diced green chiles
½ teaspoon kosher salt
1 teaspoon red pepper flakes
1 teaspoon ground cumin
1 avocado, diced
2 tablespoons cilantro (optional)
3-4 ounces Pepper jack cheese
1 cup all-purpose flour
1 teaspoon kosher salt
1 teaspoon black pepper
3 large eggs, whisked
1½ cups bread crumbs
2 quarts vegetable or canola oil for frying
Method
In a medium pan over medium heat, add oil followed by red onion. Cook until the onion is soft, about 4 minutes.
Add rice, tomatoes, and chiles to the pot and cook for a few minutes. Add salt, red pepper flakes, and cumin.
Remove from heat and let cool until you can work with the rice mixture. If the mixture is very wet, press down on the rice with a few paper towels to draw out some of the liquid. Try forming a ball out of the rice to make sure it is sticky, but not too wet.
Add in avocado and cilantro (if you're using it) once the rice is relatively cool.
Continue with the arancini recipe using Pepper Jack cheese in place of manchego cheese.