Appears in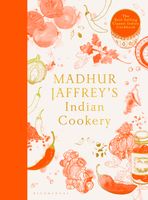 Ingredients
225–250 g/8–9 oz boned lamb from shoulder or leg, or beef steak
Method
Cut the meat into 2cm/¾ inch cubes and put in a stainless-steel bowl, or a non-metallic bowl.
Combine the yogurt, lemon juice, ginger, garlic, cumin, coriander, cayenne and salt in a bowl and mix well with a fork.
Hold a sieve over the meat and pour the yogurt mixture into it. Push this mixture through the sieve, extracting all the paste that you can.