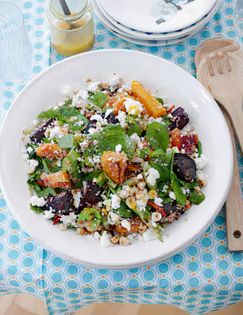 Appears in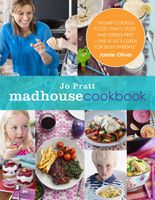 Ingredients
For the Quinoa, Beet, Squash and Feta Salad
1 butternut squash, peeled, seeded and cut into bite-size pieces
4 raw beets, cut into bite-size pieces
2 tablespoons olive oil
½ cup less 1 tablespoon hazelnuts
½ cup quinoa
½ bag (10-oz.) baby spinach leaves
1 small bunch mint leaves, roughly chopped
1 bunch scallions, thinly sliced
1 red chili, seeded and thinly sliced
1⅔ cups crumbled feta cheese
sea salt and freshly ground black pepper
Method
Heat the oven to 400°F.
Put the butternut squash and beets in a roasting pan, toss with the oil and season lightly with salt and pepper. Roast the beets 40 to 50 minutes until they are soft and beginning to color. Remove them from the oven and leave to cool to room temperature.
While you are roasting the vegetables, put the hazelnuts in a small baking sheet and roast 8 minutes, or until golden brown. Leave to cool slightly, then roughly chop and set aside.
Rinse the quinoa in cold water, then put in a saucepan with 1¼ cups cold water and a pinch salt. Bring to a boil, then reduce the heat and leave to simmer 20 minutes, or until all the water is absorbed and the quinoa is light and fluffy. Leave to cool.
Put the dressing ingredients in a screw-top jar, cover and shake well, then set aside. (You can roast the vegetables and nuts, make the dressing and cook the quinoa several hours in advance. Cover and keep in the refrigerator until you are ready to finish.)
To finish, put all the ingredients, except the hazelnuts and feta, in a bowl, then pour the dressing over and toss together. Serve sprinkled with the feta and hazelnuts.