Appears in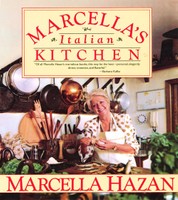 Ingredients
2 pounds fresh spinach, or young, narrow-stalked Swiss chard, or the leaves from mature Swiss chard
Salt
1 heaping cup long-grain rice
4 tablespoons butter, plus additional butter for smearing the baking pan
¼ cup extra virgin olive oil
½ cup chopped onion
½ cup freshly grated parmigiano-reggiano (Parmesan)
⅛ teaspoon grated nutmeg
4 eggs
Black pepper in a grinder
A 10-inch Springform pan
¼ cup toasted, unflavored bread crumbs
Method
If using spinach, first cut off and discard the root end holding the leaves together. Soak spinach or chard in a basin full of cold water for 5 to 6 minutes. Lift the greens out of the water, empty the basin, and refill the basin. Wash the greens in several changes of fresh cold water, always lifting out the leaves before pouring out the water, until no more soil settles to the bottom.
Put the clean spinach or chard in a pot with no other water than what clings to the leaves, add salt, cover, and turn on the heat to medium. Cook until tender, drain, and, when cool enough to handle, squeeze dry with your hands and cut up into coarse bits.
In another pot bring water to a boil and add salt. When the water resumes boiling, drop in the rice and cook until tender but still a bit firm. Drain and set aside.
Turn on the oven to 450°F.
Put 2 tablespoons of the butter, the oil, and the chopped onion in a sauté pan and turn on the heat to medium. When the onion becomes colored a pale gold, add the cut-up greens and the rice. Cook, stirring frequently, for 3 to 4 minutes, until all the ingredients are coated thoroughly, then transfer the contents of the pan to a bowl and let cool.
When cool, add ¼ cup of the grated cheese, the nutmeg, and the eggs, mixing these in one at a time. Mix in several grindings of pepper, then taste and correct for seasoning.
Smear the inside of the baking pan with butter and sprinkle with the bread crumbs. Turn the pan upside down and rap it against the work counter to shake off excess bread crumbs. Add these crumbs to the remaining ¼ cup of grated cheese.
Put the rice and spinach or chard mixture into the pan, leveling it off evenly. Sprinkle the grated cheese and bread crumbs on top. Dot with the remaining 2 tablespoons of butter and place in the uppermost level of the preheated oven. Bake for 15 minutes, or until a light crust forms on top. Allow the "turta" time to cool until just lukewarm before serving.
Serving Suggestions
See preceding recipe.