Appears in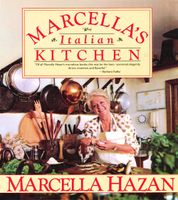 Ingredients
1 ounce dried porcini mushrooms
3 cups lukewarm water 19-ounce can chick-peas
3 tablespoons extra virgin olive oil 2½ ounces pancetta, cut into the narrowest possible strips, about ½ cup
2 cups chopped onion
½ cup carrot chopped fine
½ cup celery chopped fine
2 teaspoons tomato paste dissolved in the filtered water of the soaked mushrooms (see step 2 of the preceding recipe)
Salt
Black pepper in a grinder
3 cups Homemade Meat Broth, or 3 bouillon cubes dissolved in 3 cups water
Toasted or grilled slices crusty, country-style bread
Freshly grated parmigiano-reggiano (Parmesan) for the table
Method
Soak the mushrooms in the water and rinse them, as described in step 1 of the preceding recipe.
Empty the can of chick-peas with all its liquid into a bowl. Squeeze the peel off the chick-peas one by one, putting the peeled peas on a plate. When all the chick-peas have been peeled, put them back into the bowl with their own liquid.
Put the olive oil, pancetta, and onion in a large saucepan or soup pot and turn on the heat to medium. When the onion becomes colored a medium gold, add the carrot and celery.
Cook until the vegetables are not only nicely browned but tender. Add the soaked, rinsed mushrooms and the mushroom liquid with the dissolved tomato paste. Continue cooking in the uncovered pot until all the liquid has boiled away.
Drain the chick-peas, add them to the pot, cover, and cook for about 10 minutes. Taste and correct for salt, adding a few grindings of pepper. Add the broth or dissolved bouillon cubes. When the soup has simmered for 2 minutes or so, serve in soup plates over the toasted bread, with grated cheese available on the side.