Appears in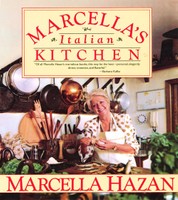 Ingredients
¾ pound fresh, young green beans
Salt
5 tablespoons butter, plus additional butter for smearing the baking dish
2 medium garlic cloves chopped very fine
½ pound mozzarella, preferably buffalo-milk, if available, otherwise whole-milk
⅔ cup freshly grated parmigiano-reggiano (Parmesan)
A 9- by 12-inch oven-to-table baking dish or its equivalent
The crepes from the basic fazzoletti recipe
Method
Snap off the ends of the green beans and wash the beans in cold water. Bring a pot of water to a boil, add 2 tablespoons of salt, and when the water resumes boiling, drop in the green beans. Cook until they are just tender but still firm to the bite. Drain and cut into ⅓-inch lengths.
Put 3 tablespoons of the butter and the chopped garlic in a sauté pan and turn on the heat to medium. When the garlic becomes colored a pale gold, add the cut-up green beans. Cook, stirring frequently, for 2 to 3 minutes, then transfer the green beans to a bowl. Taste and correct for salt.
Grate the mozzarella on the large holes of a grater or chop very fine. When the beans are cool, toss them with the grated mozzarella and half the grated Parmesan.
Turn on the oven to 450°F.
Butter the bottom and sides of the baking dish.
Lay a single crepe wrapper flat and spread over one-half of it about 2 to 2½ tablespoons of the green beans and cheese stuffing. Fold the bare half over the stuffing, making the edges meet. Fold again in half, creating a puffy triangle with 1 curved side. Stand the triangle in the baking dish with the curved side facing down. Proceed in this manner until all the fazzoletti have been stuffed and placed in the dish, with the curved sides all facing down.
Sprinkle the remaining grated Parmesan over the fazzoletti Dot with tiny dabs of the remaining 2 tablespoons of butter, making sure that there is 1 dab on the peak of each of the fazzoletti.
Bake in the uppermost level of the preheated oven for 20 minutes, until the top is speckled with a golden brown crust. Remove from the oven and serve when the dish has settled for a few minutes.