Appears in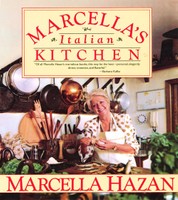 Ingredients
2 ounces dried porcini mushrooms, soaked in 1 quart lukewarm water for 30 minutes
5 tablespoons butter
⅔ cup chopped onion
Salt
10 ounces boiled, unsmoked ham, cut into thin strips
For the béchamel
2 cups milk
4 tablespoons butter
3 tablespoons flour
Pinch salt
⅔ cup freshly grated parmigiano-reggiano (Parmesan)
Black pepper in a grinder
A 9- by 12-inch oven-to-table baking dish or its equivalent
½ cup fine, dry, unflavored bread crumbs, toasted lightly in a pan as described
The crepes from the basic fazzoletti recipe
Method
When the mushrooms have soaked the recommended amount of time, drain them, reserving the water from their soak. Squeeze the mushrooms in your hands, letting the liquid drip into the water where they had been soaking. Wash them in several changes of clean cold water. Cut them up into coarse pieces.
Filter the water from the mushroom soak through a strainer lined with a paper towel into a bowl and set aside.
Put 3 tablespoons of the butter and the chopped onion in a sauté pan and turn on the heat to medium. When the onion becomes colored a very pale gold, add the mushrooms, a little bit of salt, and cook for about 1 minute, stirring frequently.
Add the filtered water from the mushroom soak, turn the heat up to high, and bubble the liquid away, stirring occasionally, until it has evaporated completely.
Turn down the heat to medium, add the ham strips, and cook, stirring from time to time, until the ham is lightly browned.
Prepare the béchamel as described, add the mushroom and ham mixture, and combine thoroughly to amalgamate all the ingredients.
Add ½ cup of the grated cheese, several grindings of pepper, mix, taste, and correct for salt.
Turn on the oven to 450°F.
Butter the bottom and sides of the baking dish. Sprinkle the toasted bread crumbs into the dish, then turn the dish upside down and rap it against the work counter to shake off excess bread crumbs. From the excess take 2 tablespoons of bread crumbs and mix them with the remaining grated cheese.
Stuff, fold, and place the fazzoletti in the baking dish as described in step 6 of the recipe.
Sprinkle the grated cheese and bread crumb mixture over the fazzoletti Dot with the remaining 2 tablespoons of butter, making sure there is a dab of butter on the peak of each of the fazzoletti Bake in the uppermost level of the preheated oven for 20 minutes, or until a golden crust forms on top. Remove from the oven and allow the heat to subside a few minutes before serving.