Appears in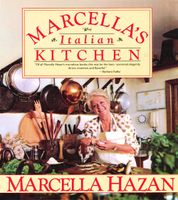 Ingredients
¼ cup extra virgin olive oil
1 teaspoon garlic chopped fine
1 tablespoon parsley chopped fine
1 cup canned Italian peeled plum tomatoes, cut up, with their juice
Salt
Black pepper in a grinder
Frittata noodles from preceding recipe
Method
Put the olive oil and garlic in a skillet or sauté pan that can later accommodate the noodles. Turn on the heat to medium and sauté the garlic until it becomes colored a very pale gold.
Add the parsley, stir once or twice, then add the cut-up tomatoes with their juice. Turn the heat down to very low and cook, uncovered, for about 20 minutes, or until the oil separates from the tomato and floats free.
Add salt and a liberal grinding of pepper.
Add the frittata noodles, toss well, cover the pan, turn up the heat to medium, and cook for 2 to 3 minutes, until the noodles are hot.