Appears in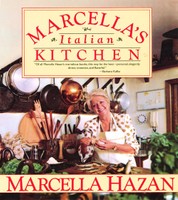 Ingredients
2 pounds whole squid to be cleaned, or 1½ pounds already cleaned and sliced
½ cup extra virgin olive oil, plus 2 tablespoons
½ onion, chopped fine
1 tablespoon chopped garlic
3 tablespoons chopped parsley
½ cup dry white wine
1 cup canned Italian peeled plum tomatoes, drained of their juice; or peeled fresh plum tomatoes, if very ripe ones are available
2 cups imported Italian Arborio rice
Salt
Black pepper in a grinder
Method
If using whole uncleaned squid, clean it as directed, rinse it in cold water, and pat thoroughly dry. If using cleaned squid, wash it, dry it, and proceed to the next step.
Chop all the squid and tentacles in a food processor or by hand, until no piece is larger than ½ inch.
Choose a sturdy pot suitable for making risotto, put into it the ½ cup of olive oil and the chopped onion, and turn on the heat to medium.
When the onion becomes translucent, add the garlic.
When the garlic becomes very faintly colored, add 2 tablespoons of the chopped parsley, stir once or twice, then add the chopped squid. Cook for a minute or two, until the color of the squid turns from translucent to flat white. Stir 2 or 3 times, then add the white wine.
When the wine has bubbled for 1 minute, add the tomatoes, turn down the heat to minimum, and cover the pot. Cook for at least 45 minutes, until the oil has floated free. Note: Add no salt until later, when directed, because it would make the squid tough.
In a separate pan, bring about 2 quarts of water to a simmer.
Add the rice to the pot with the squid, turning up the heat to medium high and keeping the pot uncovered. Stir the rice several times, coating it thoroughly with the contents of the pot.
Add a ladleful of the simmering water, stirring the rice constantly to wipe it away from the side and bottom of the pot. When the water has evaporated or been absorbed, add another ladleful and continue stirring. Add a ladleful of water whenever it is required, never ceasing to stir. After 10 to 15 minutes, add salt and liberal grindings of pepper. The rice is done when it is firm but tender, without a chalky center; the consistency of the finished risotto should be just slightly runny.
Just before transferring the risotto to a serving platter, take the pot off the heat and stir in the 2 tablespoons of olive oil and the remaining tablespoon of chopped parsley.