Appears in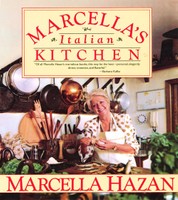 Ingredients
1¼ pounds shrimp in their shells
1½ pounds whole squid to be cleaned, or 1 pound already cleaned and sliced
All the other ingredients in the recipe for Risotto with Squid
Hot red pepper to taste (optional)
Method
Shell the shrimp, devein them, wash them, drain them, and pat them dry.
Separate the cleaned shrimp into 2 equal parts. Chop 1 part into fine bits in a processor or by hand and set aside. Cut up the remaining shrimp into larger pieces—about 3 pieces to each shrimp, depending on its size—and set aside.
Follow steps 1 through 9 of the preceding recipe up to the point where the rice has cooked for about 15 minutes. Add the finely chopped portion of shrimp, salt, and liberal grindings of pepper. When the rice is about 5 minutes from being done, add the larger pieces of shrimp and hot pepper to taste. Finish the risotto as directed in the preceding recipe, stirring in the olive oil and parsley off the heat just before serving.