Appears in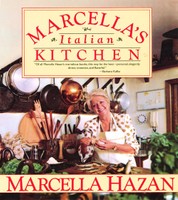 Ingredients
1½ pounds scallops, preferably tiny bay scallops
¼ cup extra virgin olive oil
2 medium garlic cloves, peeled and sliced very thin
1½ teaspoons whole fresh or chopped dried rosemary leaves
Salt
Black pepper in a grinder
2 tablespoons freshly squeezed lemon juice
Method
Wash the scallops and pat them thoroughly dry with a towel. If using large sea scallops, cut them into 2 or 3 pieces.
Choose a skillet that can accommodate the scallops in a single layer later. Put in the oil and garlic and turn on the heat to medium.
When the garlic becomes colored a pale gold, add the rosemary, stir quickly, add the scallops, salt, and grindings of pepper and turn up the heat to high. Cook, stirring frequently, for about 2 minutes, until the scallops change from translucent to a flat white.
Add the lemon juice, turn up the heat as high as possible, stir once or twice, then transfer to a warm platter and serve at once.