Appears in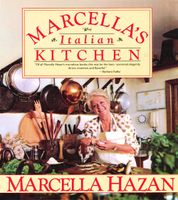 Ingredients
1 large or 2 smaller sweet red bell peppers
1½ pounds ground veal shoulder
1½ teaspoons chopped garlic
2 tablespoons chopped parsley
½ cup freshly grated parmigiano-reggiano (Parmesan)
1 egg
Salt
Black pepper in a grinder
1 cup toasted, unflavored bread crumbs
3 tablespoons butter
2 tablespoons vegetable oil
⅔ cup dry white wine
Method
Wash the pepper and roast it over the flame of a burner, if you have a gas stove, or in the oven, turning it from time to time, until its skin is charred all over. Put it in a plastic bag, twist the bag tightly shut, and set aside until the pepper is cool enough to handle.
While waiting for the pepper to cool, put the meat, garlic, parsley, grated cheese, egg, salt, and generous grindings of pepper in a bowl. Mix thoroughly with a fork until all the ingredients are combined uniformly.
Pull off all the peel from the pepper, then split the pepper in half, lengthwise, to remove the stem, core, and all seeds. Cut the pepper lengthwise into strips about ½ inch wide.
Unroll about 10 to 12 inches of wax paper, lay it flat on a work counter, and moisten its surface with a towel soaked in water.
Spread the meat mixture over the paper to a thickness of 1 inch, pressing it down flat.
Place the strips of pepper over the meat, arranging them so that they lie in the same direction as the meat's longer side. Begin laying them down at one end, but stop at about 2 inches short of the opposite end.
Make a jelly roll of the meat, starting at the end topped with pepper. Use the wax paper to help you lift and roll the meat, but do not roll up the paper inside the loaf. Press gently to make a compact round loaf and pinch both ends to seal them.
Sprinkle the bread crumbs over the wax paper and roll the meat over the crumbs, exerting a little pressure until the loaf is thoroughly and firmly coated.
Choose a lidded pan that can subsequently accommodate the meat loaf lying flat. Put in the butter and oil and turn on the heat to medium high. Do not cover the pan. When the fat is hot, slip in the meat. Let it form a brown-gold crust on the side resting on the bottom of the pan before turning it, then turn it gently, using 2 spatulas, taking care not to allow the loaf to break up.
When the meat has a nice crust all around, add the wine. Let it bubble for about 1 minute, then turn the heat down to very low and cover the pan. Cook for 50 minutes, turning the roll from time to time. If, at some point, you find the juices in the pan are drying up, add up to 2 tablespoons of water.
Transfer the loaf to a cutting board and cut it into serving slices. Transfer them to a platter, pour all pan juices over them, and serve.